Use the Meta Information tab to manage the metadata, SEO, and script tags on your pages.

Add New Meta Information
To add meta information to an existing page, select the "Add" button at the top of the page. You will be taken to a separate page titled "Add Meta Information."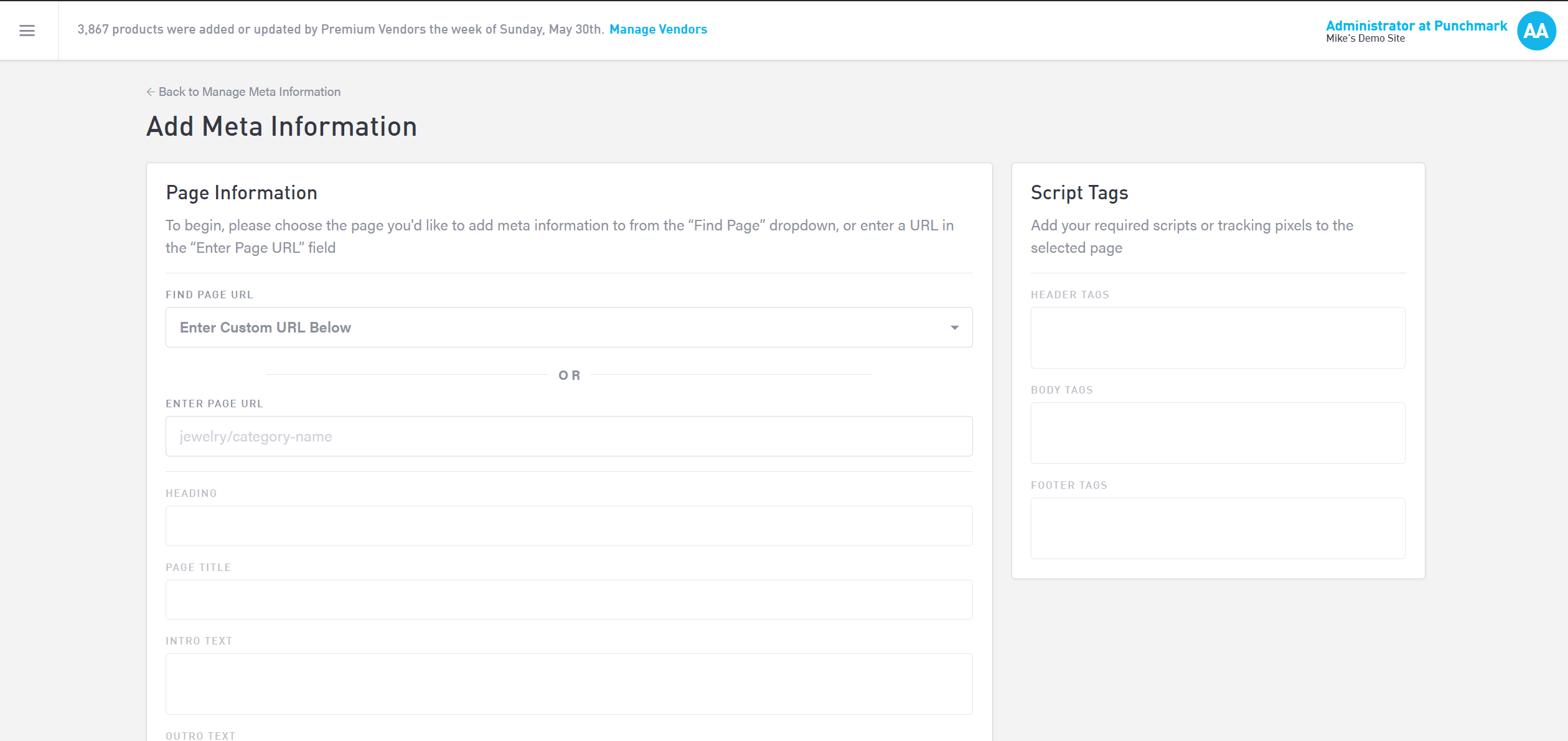 You can choose to either find your page URL using the dropdown or enter it manually in the box below the dropdown. Enter your heading, page title, intro text, and outro text in the appropriate boxes. From there, enter your meta description and meta keywords. To enable the SEO metadata, check the box specifying "This meta information is enabled."
Add any script tags, including header, body, and footer tags, in the Script Tags sidebar.
Once you are satisfied with your new meta information, select "Add Meta Data" at the bottom of the page to save your edits.
Editing Existing Meta Information
To edit existing metadata, select the "Edit" button to the right of to the page you wish to change. You can use the Search Bar at the top to look through your records and find a specific page, if needed.
Make any necessary changes to your page metadata, then select "Update Metadata" at the bottom of the page.
Removing Meta Information
There are two ways to remove meta information.
To delete the data for a single page, select the "Delete" button to the right of the page whose information you wish to remove. Note that this action will not delete the page itself.
To delete multiple pages, use the checkboxes next to each page you wish to delete. Once you have selected pages to remove, use the "Remove" button at the top of the page.
Tip: If the pages you are removing have a keyword or phrase in common, use the search bar at the top to filter your pages to make multi-selection easier.