Punchmark has partnered with Sezzle to offer our clients the ability to provide a zero risk online financing option. For a small percentage of your sale, this will allow your users to purchase an order (up to $1,000) by splitting the cost into 4 easy interest-free installments over 6 weeks. The best part: you get paid in full, immediately!
Sezzle also has a long term financing option available for 0-18 months. The Sezzle long term financing implementation is easily accessible and available to merchants through the same sign up process as our Pay In 4 product. All merchants sign ups are subject to approval.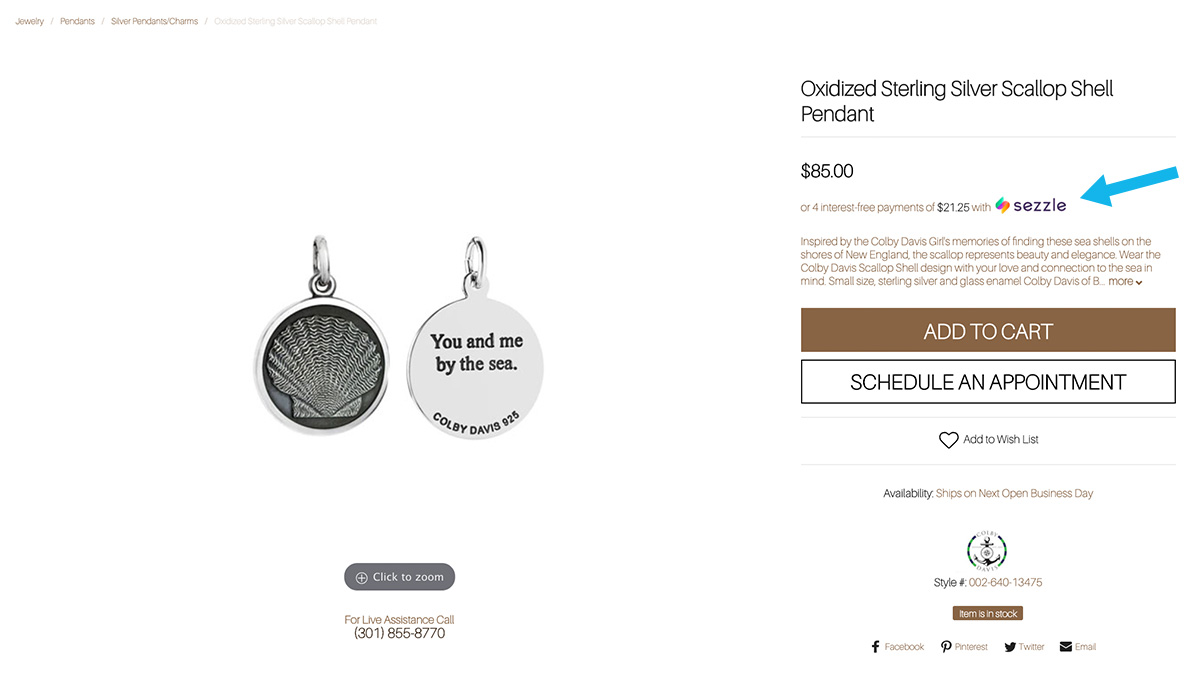 The Benefits of Sezzle on Your Punchmark Website
Sezzle integrates seamlessly with Punchmark websites. Having it as a payment option will enhance not only the user-experience, but increase your online revenue.
Increased Payment Options
A large percentage of abandoned carts are because of lack of payment options. Sezzle is a trusted form of online purchasing which will help bring in more sales.

Larger Online Purchases
As Sezzle lets a user split payments into four installments this will encourage larger purchases.

Reach a Wider Audience
By providing online financing, this will give you the ability to target and appeal to a wider demographic that you previously weren't able to.

Zero Financial Risk
Sezzle assumes all credit risk. You, as the business owner, will be paid in full immediately.
To learn more about the ways integrating with Sezzle will benefit you, read here.
Get Integrated with Sezzle on SiteManager
To sign up for Sezzle fill out the form on this page.
After you set up an account with Sezzle, they will get back to you with 2 pieces of information:
Sezzle Public Key

Sezzle Private Key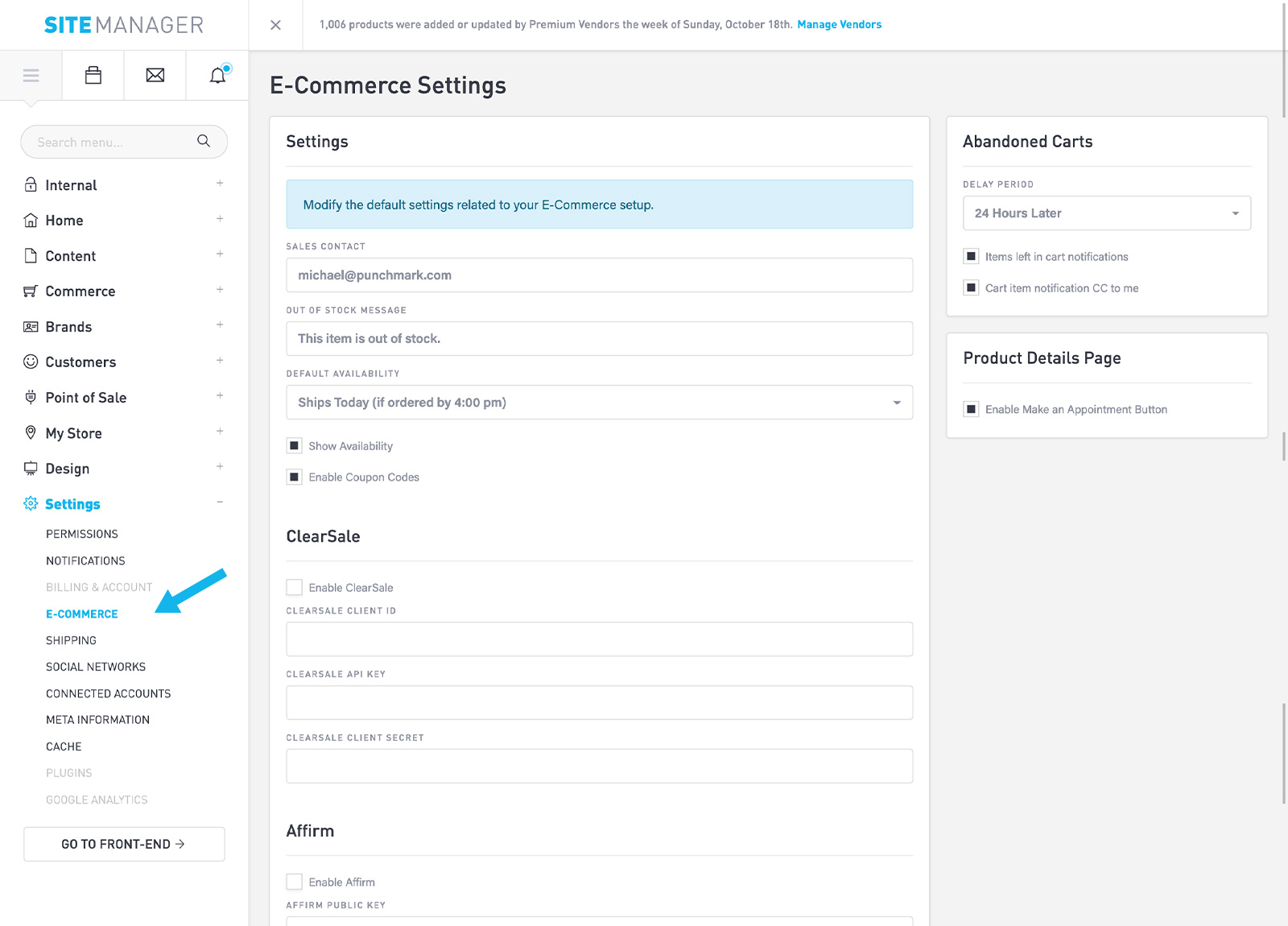 Navigate to SiteManager > Settings > E-Commerce
Scroll down and you will see a section labeled "Sezzle".

Check the box labeled "Enable Sezzle" and then enter the Sezzle Public Key and Sezzle Private Key in the appropriate fields. Select Save. Your site will now be able to accept financing with Sezzle.
Checking The Integration
Navigate to a product details page on your site that is inside of the price range of what your Sezzle account allows. It should show the price breakdown near the price.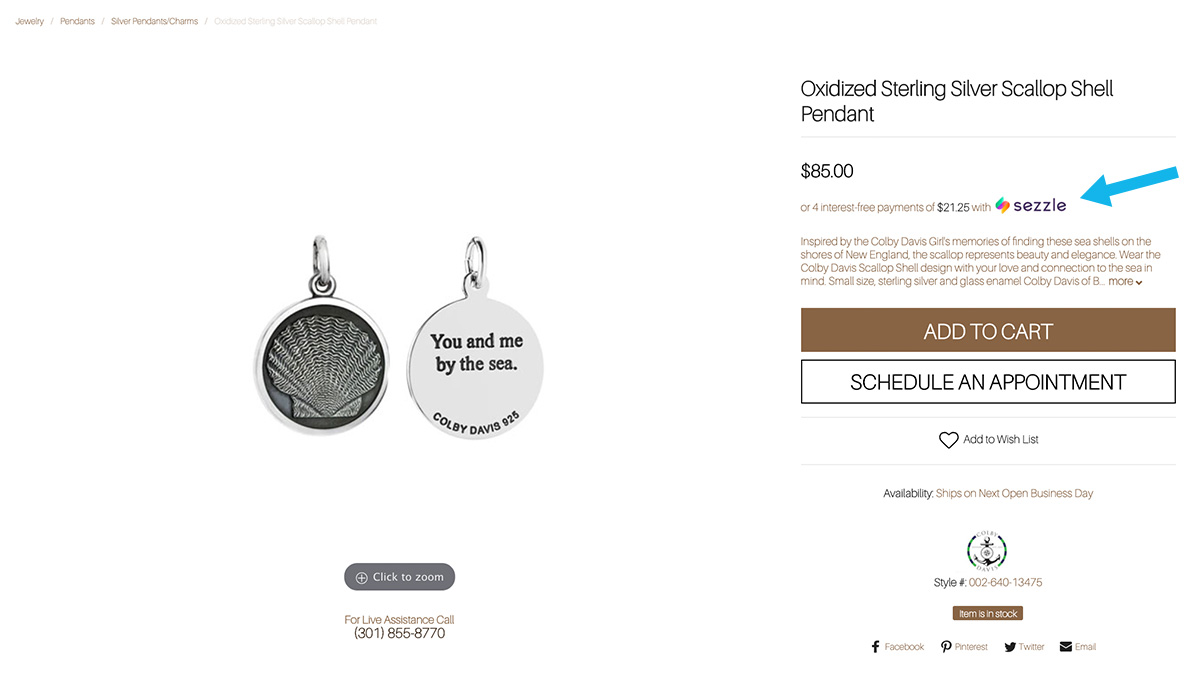 Sezzle will be available at checkout as a payment option.
About the Long Term Financing Integration
Sezzle Long Term Lending Implementation is a simple step once you have completed your sign up and the aforementioned items on the setup checklist.
In your Sezzle account, select "Get Started" in the drop down box

You will be directed to capture their required Lender specific information in the form as shown below

Once the application is approved by the risk team Sezzle will onboard each merchant inclusive of adding the merchant to their code which will enable the long term payment option to populate at checkout. Please allow 14 business days for full implementation. If you have additional questions please reach out to accounts@sezzle.com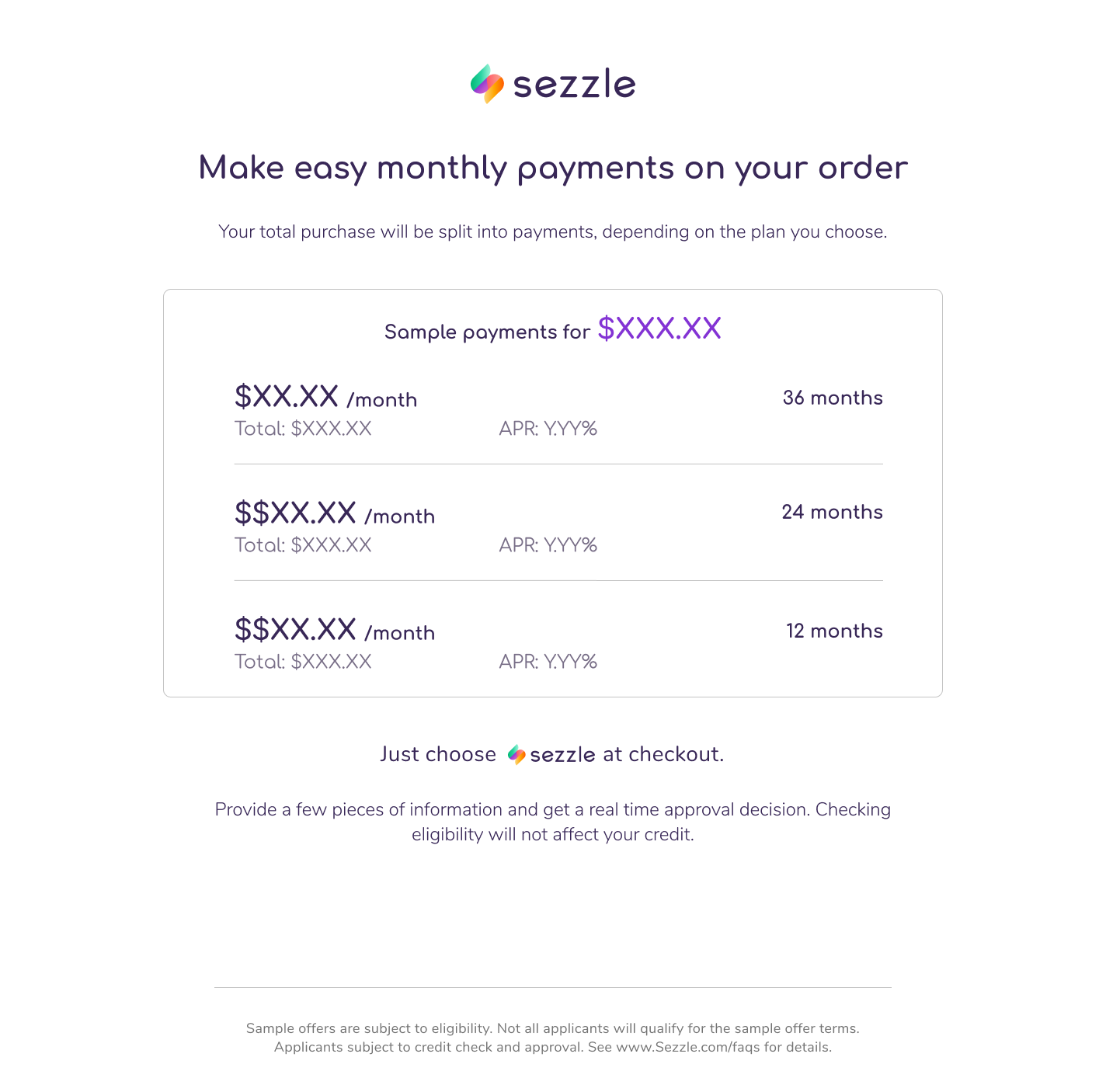 Sezzle New Merchant Sign-up flow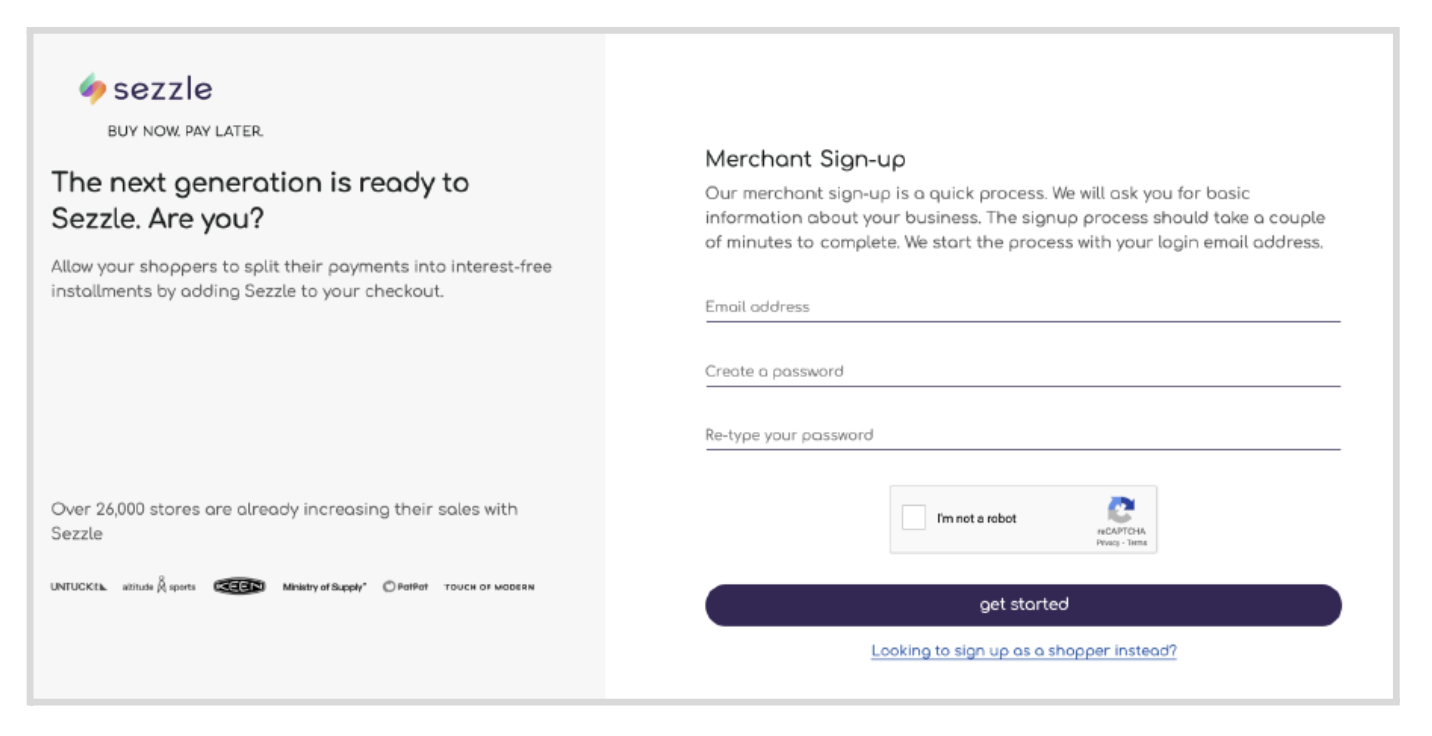 Merchant Onboarding
1. Merchant Sign Up
Merchants begin their journey with Sezzle on the Sezzle Business Signup page where you will enter email and password.
2. Merchant Sign In - Account Validation
After the account is created, merchants will have to sign and will be prompted for 2FA for additional account security.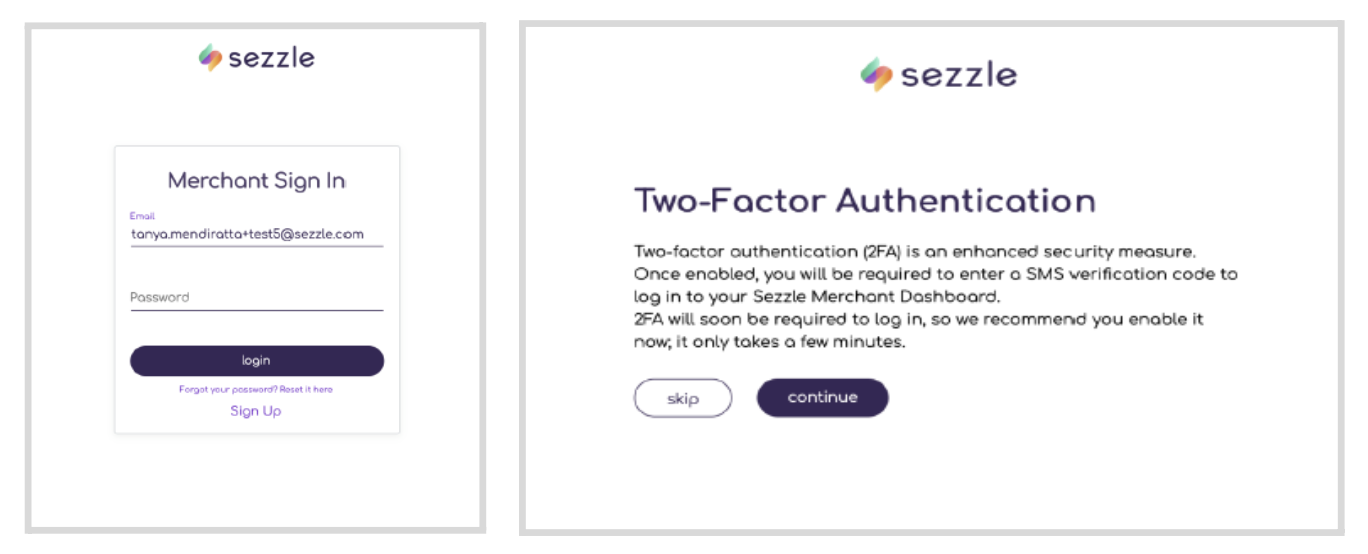 3. Basic Company Information - Merchant Application
Once the account is validated, merchants will begin their application by filling out basic information as noted below.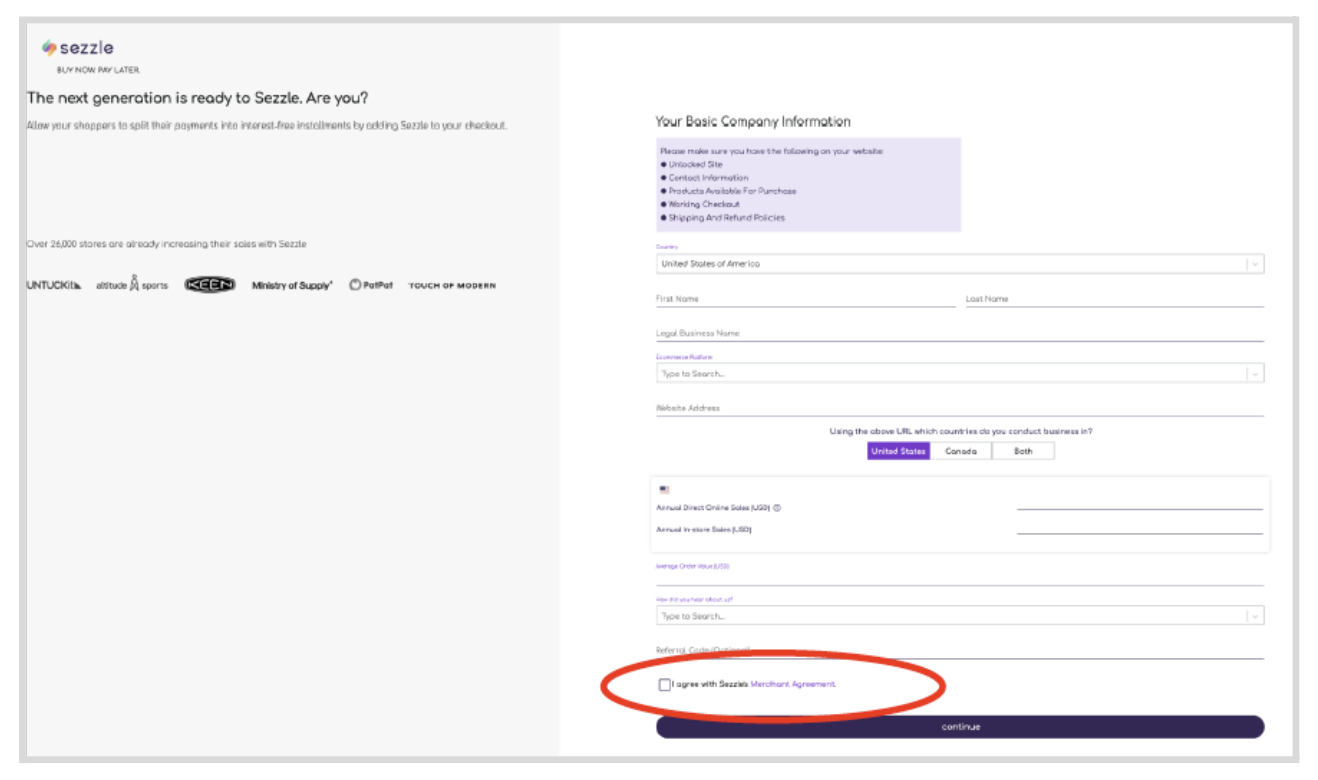 4. Setup Checklist
The checklist is a "to-do list" for merchants that walks them through the merchant onboarding process from application through launch, and provides guidance for how to get the most out of Sezzle.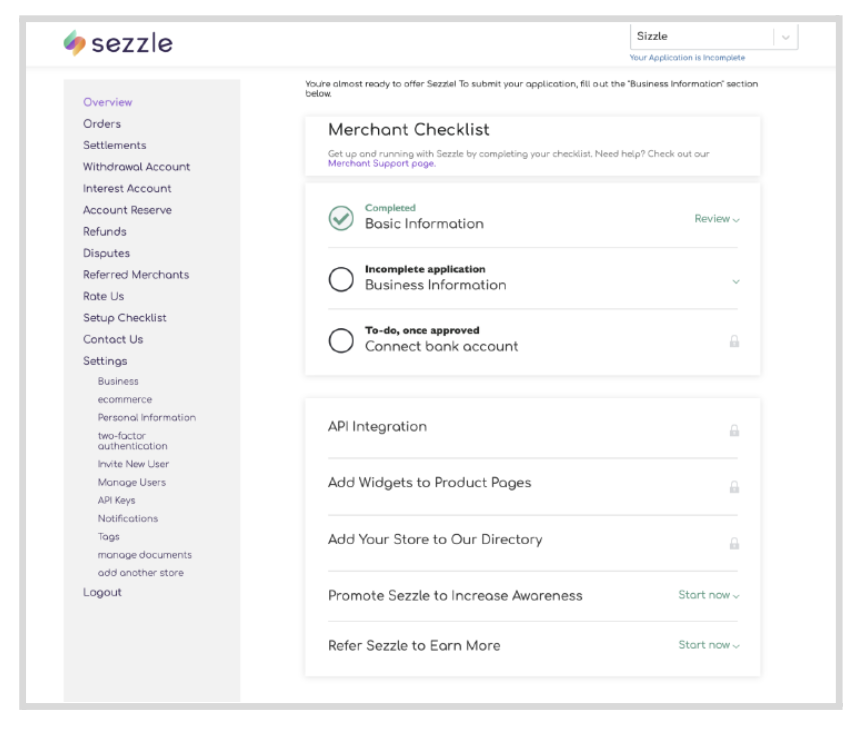 After Basic and Business information are completed, their application is reviewed. If approved, the merchant needs to take a few actions before they can process orders:
Connect their bank account

Integrate the API
Complete API integration instructions can be found on the link below: https://docs.sezzle.com/sezzle-integration/docs/integration-guide
Once the API is integrated the merchant is ready to take their orders through Sezzle.
Long Term Lending Onboarding:
Sezzle Long Term Lending Implementation is a simple step once the merchant completes their sign up and the aforementioned items on the setup checklist.
1. Navigate to the Merchant Checklist
2. Click 'Start Now' on the "Interested in Long-Term Lending?" tab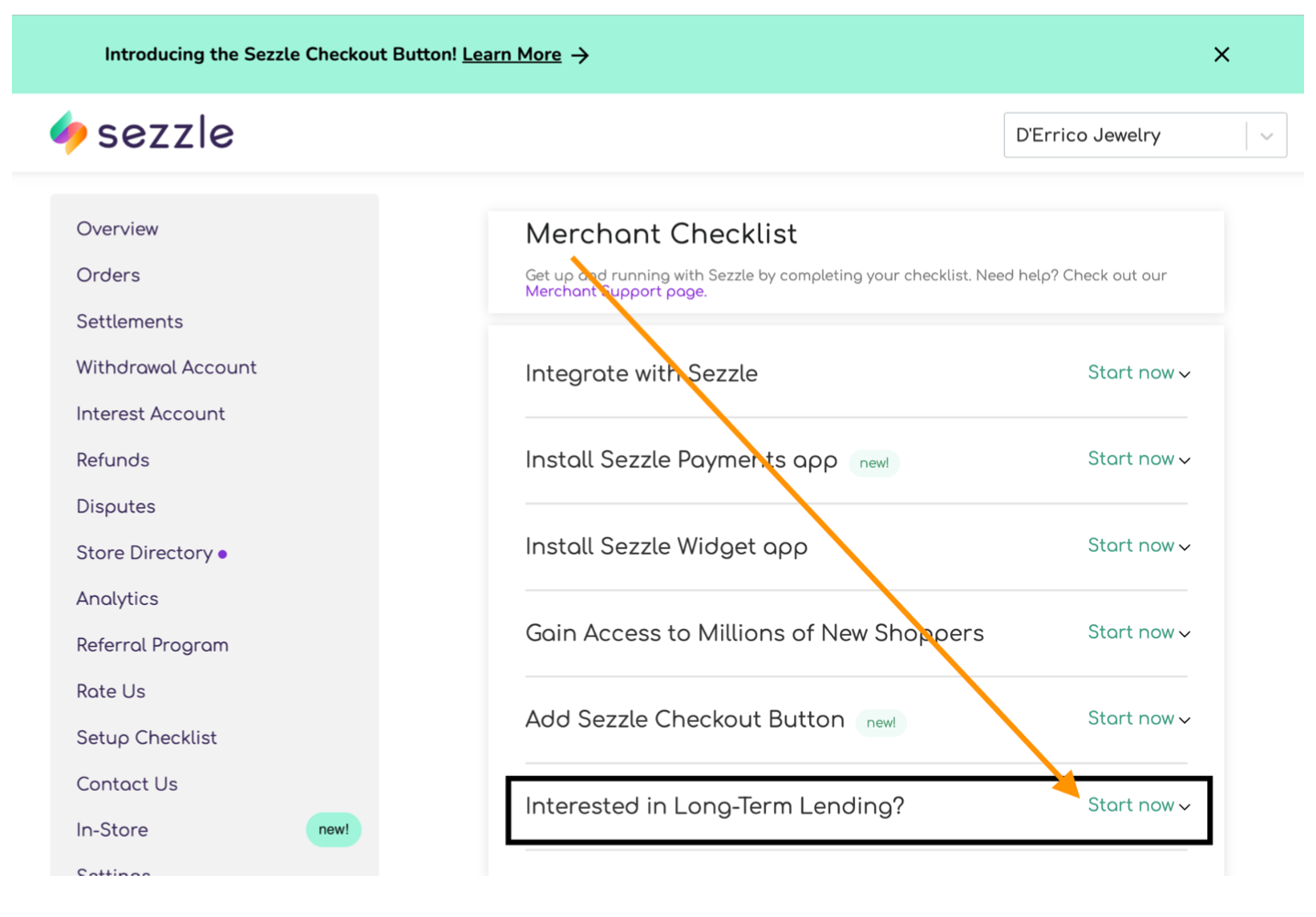 3. Merchants will be directed to capture their required Lender specific information in the form as shown below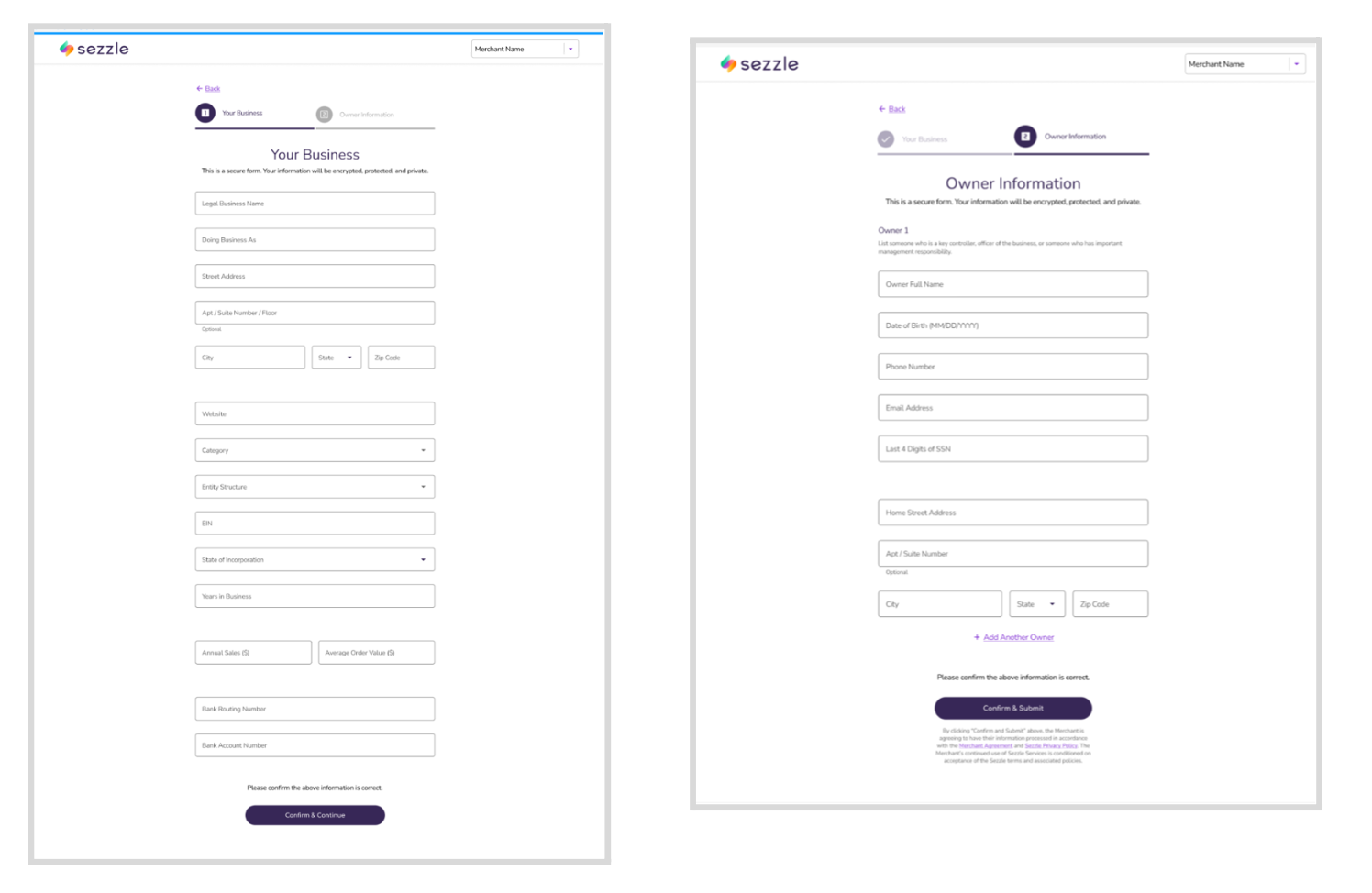 4. Once the application is approved by the risk team our developer team will onboard each merchant inclusive of adding the merchant to our code which will enable the long term payment option to populate at checkout. Please allow 14 business days for full implementation. If you have additional questions please reach out to accounts@sezzle.com